Barcode script for OmniGraffle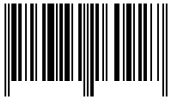 The one that nobody really needs, but it's still neat to do. Draws barcodes in OmniGraffle. It looks simple, but trust me (or take a look at the code!), it's not.
If you feel so inclined you can discuss this script at the appropriate OmniGraffle Extras forum page.
Using
Download barcode.zip (16 KB).
Install the script.
Select > Barcode.
In the window that appears enter the numbers from the barcode. Include the single digits to the left and right of the code, if there are any.
Hit OK... and the excitement begins.
Tips and other uses
If you're just making up a 12 or 13 digit number then the script may complain if you get the check digit (the last one) wrong. It offers to fix it, or leave it as you entered it. (If you leave it as it is then your code probably won't scan, but it's not like you were expecting it to anyway probably.)
The bars of the barcode are grouped for your convenience.
If you have a barcode scanner, or an iSight, and Delicious Library (even a free trial version - fun to play with), then you can type in the numbers into the script, then scanning the barcode right off the screen. Without the use of two mirrors (one would present a reversed barcode, and probably not scan) this "scan from screen feature" is not directly compatible with Macs such as the Intel iMac or MacBook Pro with a built-in iSight camera. The astute reader may notice some scope for optimisation of this workflow, namely just scanning the original barcode into Delicious Library, but it's a much less exciting technology demo I think you'll agree.
Known 'features'
There is no error checking. As such, if you do anything out of the ordinary the script will almost certainly give strange—or no—results. Obvious things which come to mind which will confuse it are putting in negative numbers, or words. If you do do something funny, OmniGraffle will give you the option to edit the script. Feel free! Let me know if you come up with anything great.
The script does not currently draw the numbers. I mostly just wanted to show off what I'd written, but don't really consider it very 'finished' yet.
Things to maybe get around to some nice day
Acknowledgements
Inspired by an online barcode drawing thing, where they also have a great thing that tells you 'stuff' based on an Apple hardware serial number (which was what I was looking for in the first place before I got sidetracked).
Version history
1.0 (2006-04-29)

Initial release. Apparently works with OmniGraffle Pro version 4.1.2 beta 1.